"If I had an hour to solve a problem and my life depended on the solution, I would spend the first 55 minutes determining the proper question to ask, for once I know the proper question, I could solve the problem in less than five minutes." Albert Eistein
"Everything you want is on the other side of fear." Jack Canfield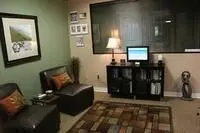 Providing individual, couples and family counseling. Treatment specialization includes:
Individuals counseling

Depression & Anxiety Treatment

Grief Recovery

Work and Career issues

Stress management

Mindfulness and CBT

Addiction & Recovery
NO LOOKING BACK. LOVE WHERE YOU'RE GOING
I work with a wide range of emotional and behavioral issues providing services that span from therapy for depression and grief counseling to parenting support, couples counseling, premarital counseling and beyond. In a comfortable and supportive atmosphere, I offer a highly personalized approach tailored to each of my clients individual needs to help attain the personal growth they're striving for.

Specialties :
Administrator of the Myers-Briggs Personality Type Indicator (MBTI)
Trained as a facilitator for premarital couples in administering the FOCCUS Inventory (Facilitating Open Couple Communication, Understanding and Study)
Contact
Questions? Please contact me for further information.
"When I focus on what's good today, I have a good day, and when I focus on what's bad, I have a bad day. If I focus on a problem the problem increases; If I focus on the answer, the answer increases." - Alcoholics Anonymous